ZOLL Wall Cabinet for ZOLL AED PLUS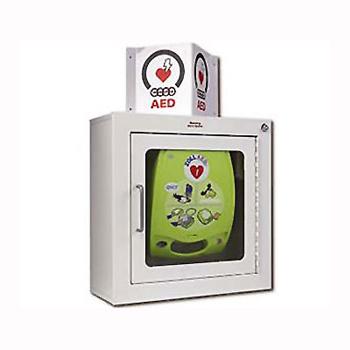 A new low cost wall cabinet for the AED Plus.
The cabinet holds 1 ZOLL AED PLUS unit with a cover in a carry case along with two boxed electrodes. i.e. 1 box CPR-D•padz and 1 boxed Pedi-Padz II (not included). The AED Plus will be completely visible through the clear window and cabinet door. The cabinet is white and does not have any external printing on the window or the cabinet itself. The cabinet has a standard alarm. Included with Cabinet:
One pair of alarm keys.
9 Volt Battery for alarm pre-installed
Label with "WARNING ALARMED SYSTEM" printed in red
Label with "EMERGENCY DEFIBRILLATOR" printed in red
Wall mounting instructions.
Retail Price: $185.00
Please call for Government and Quantity Pricing

SKU: 8000-0855

Weight: 15 lbs