The Black Label Hollowpoint Full Finger Gloves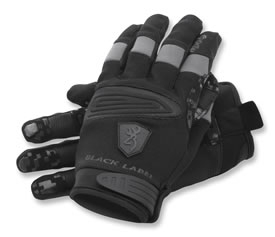 The Black Label Hollowpoint Full Finger Gloves are ideal for everyday tasks, at the range or in the field. Plus, they are smart phone ready. These are clearly on the robust side of features and technology when compared to any other shooting gloves.
Their form-fitting Palm Bulk Reduction design incorporates special stretchable panels that offer a full range of movement without binding or bunching.

The polyester fabric is stretchable and breathable, and the cuff offers a hook and loop adjustment tab.

The neoprene knuckle pads protect from bumps and bruises.

A special ON-TIP index finger pad allows you to control modern touch screen electronics like smart phones, GPS and ballistic calculators.
Sizes: XS-XXXL

SKU: 3073809903

Weight: 2 lbs